For a limited time offer only. This offer is valid til the 15 of October. The item is on the regular price of 95,99 € now 69.99 €.
This offer will not last long so hurry up, remember the're limited items in the stock.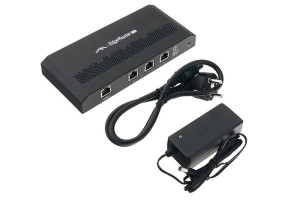 To sum up this little devices features  dual-core 500MHz, MIPS64 CPU with hardware acceleration for packet processing offers extremely high performance of 1Mpps with 64Byte packets and wire speed for the largest ones.
The EdgeRouter Lite provides a graphical user interface designed for convenient setup and control. Accessed via a network port and web browser, the user-friendly interface provides intuitive management with a virtual view of the ports, displaying physical connectivity, speed, and status. The Dashboard displays detailed statistics: IP information, MTU, transmit and receive speeds, and status for each physical and virtual interface.