AirCam Mini
Breakthrough Price / Performance IP Camera Product Line
AirCam Mini part of the airCam line of H.264 megapixel cameras combines advanced industrial design and powerful performance with market-leading cost-effectiveness. There are a variety of cameras available for optimizing application-specific deployments.
AirCam Mini features
Wall Mount/Desktop Stand
Built-in Microphone
Desktop Mount
30 FPS
1MP/HDTV 720p
3.6 mm / F2.8
Powered through Ethernet
Available in single-pack
AirVision 2 Software in AirCam Mini
airVision Software for the
AirCam Mini
provides advanced recording capabilities and powerful analytics with a breakthrough web based user interface. Combined with Ubiquiti's powerful line of H.264 megapixel airCam IP Cameras, airVision is a revolutionary price/performance IP video surveillance system.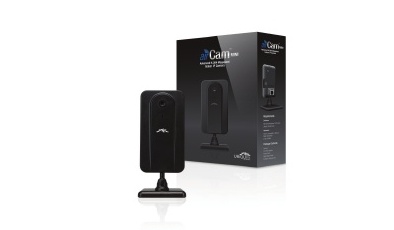 airVision 2.0 Improved Reliability and Performance
airVision 2.0 has been rebuilt from the ground up to improve reliability and performance. Recordings now use H.264 video instead of Motion JPEG for crisper video with smaller file sizes. airVision 2.0 supports audio recording on cameras with audio capability.
airVision 2.0 Features
Feature Packed User Interface
 Accessible from any web browser, airVision's user interface was designed to be easy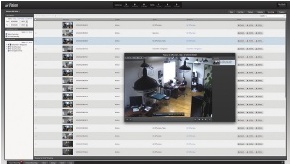 Mobile Support
 The airVision web interface is accessible on iOS and Android tablets and phones.
Easy Deployment
 Automatic camera detection and a single setup package for the Controller and NVR make airVision 2.0 easier to install and deploy. airCam settings are now integrated into the airVision software, making it unnecessary to go to the airCam UI to configure camera settings, reboot the camera, or upgrade the firmware.
Camera-Based Motion Detection
 The camera now handles motion detection instead of the server, relieving the workload on the server and ensuring that compression and noise won't affect motion detection.
Additional Live Views
 Playlists can be created with a configurable live camera feed rotation. Define the cameras you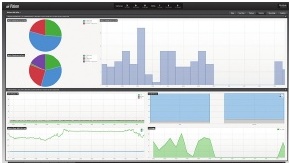 want included in the playlist and how long you want them to appear on the screen before moving on to the next live feed.
Disk Management Features
 airVision 2.0 has automatic recording management to free up disk space. User-definable disk space and date-based auto purge allow users to keep a set amount of free disk space or automatically delete recordings after a certain number of days. Another storage feature is the ability to map external USB or network storage drives.Mb Shattering conventional industry thinking, Ubiquiti offers airVision's powerful IP surveillance software completely free of charge. No huge upfront costs, no monthly subscription fees.
airCam Mini Specifications
Dimensions
55 x 55 x 125 mm
Weight (camera only)
166 g
Ports (1)
10/100 Ethernet, MicroSD card slot
Sensor Progressive Scan
RGB CMOS ¼"
Lens
3.6 mm/ F2.8
Networking Interface (1)
10/100 Ethernet Port
Power LED
Orange
Link/Activity LED
Green
Buttons
Factory Reset Button
Power Method
Passive Power over Ethernet (12-24V)
Power Supply
24V, 0.5A PoE Adapter Included
Maximum Power Consumption
3 W
Certifications
CE, FCC, IC
Mounting Wall
Mount/Desk Mount
Operating Temperature
0 to 40° C
Operating Humidity
20 - 80% Noncondensing
Video
Video Compression
H.264
Resolution
1MP/HDTV 720p
Maximum Frame Rate
30 FPS
Image Setting
Brightness, Contrast, Sharpness, Saturation, Mirror, Flip, Noise Reduction, 50 Hz/60 Hz
Audio
Microphone
ECM (Omni.); Sensitivity = -42 ± 3 dB; S/N = 60 dBA
General
Processor
ARM-Based 32-bit RISC
Memory
128 MB DDR2 SDRAM, 8 MB Flash
Local Storage
MicroSD Card Slot (Card not included)
Maximum Active Array Size
1280 x 800
View Angle
52° (H) 34° (V) 59° (D)
Network
Security Multiple User Access Levels with Password Protection, User Access Log