Improved Noise Immunity
Ubiquiti
 NanoBeam M2 400
 is a NanoBeam series product (successor to the NanoBridge series).  NanoBeam M2 forms a complete radio system 802.11n 2x2 MIMO intended for the 2.4GHz bandwidth.The Nanobeam M2 directs RF energy in a tighter beamwidth. With the focus in one direction, the NanoBeam blocks or spatially filters out noise, so noise immunity is improved. This feature is especially important in an area crowded with other RF signals of the same or similar frequency.Thanks to a better design it focuses the radio beam in a narrower path and protects against interference of other devices and networks - this is vitally important in a environment with a lot of  noisiness.  Using a InnerFeed solution enabled the integration of radiator of the antenna with radio module and Router/Access Point. The antenna characterizes itself with a 18dBi gain.An integrated radio module with a
28dbm 
strength one Ethernet port (10/100mbps) allows to setup a wireless connection
over 20km of distance 
and have a real TCP/IP capacity up to 150Mbps. The device is powered though a passive PoE adapter ( included in the set).
Ubiquiti NanoBeam-M2-400
 works in Router or Bridge mode. Wifi interface supports Access Point, Access Point WDS, Client, Client WDS modes. It works together with a RouterOS platform.This device is compatible with the
AirMax
protocol, which eliminates the hidden station problems by assigning time frames (TDMA) in which a non collision transmission is possible. This allows to use the maximum bandwidth even with tens of client stations connected to the Access Point. The included AirControl software allows to manage up to 100 devices.
All-in-One Design
Buying UBNT-NBE-M2-400 you get a complete solution with mounting bracket and power supply.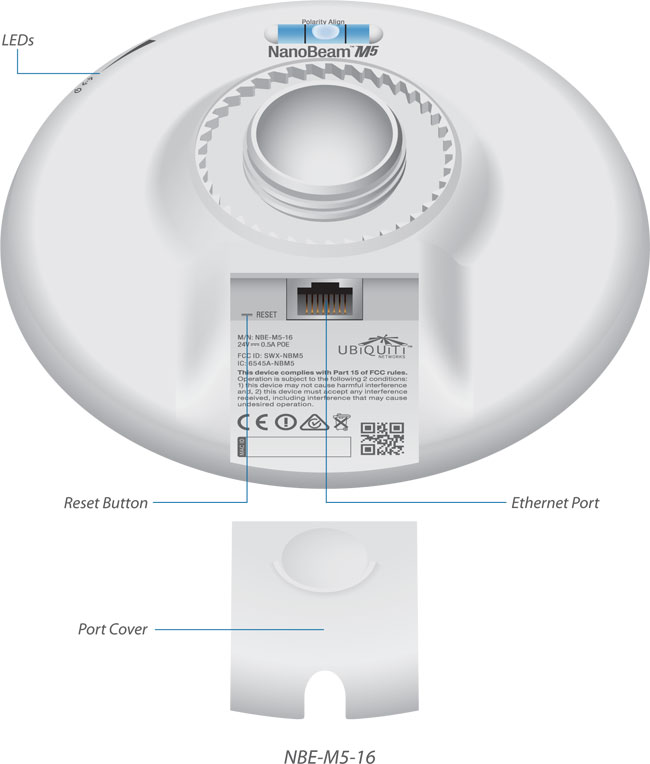 Innovative Mechanical Design
All-in-one design The NanoBeam provides both the 

radio and antenna in the smallest possible footprint.

Quick and easy installation No fasteners are r

equired for pole-mounting, and a single wall fastener 

(not included) is required for wall-mounting.

Convenient alignment The NanoBeam pivots on its 

ball joint for easy aiming.
Most important features
Compact design - radio and antenna enclosed in a small case
Quick and easy installation - included a mounting bracket which allows to mount the device on a mast.
Aesthetics thanks to a lean case the device blends in the background .